CARCOS HYGIENIZING SANITIZING DISINFECTANT SPRAY
Art.814 BC
Cont. ml 400
CAR HABITAT PRO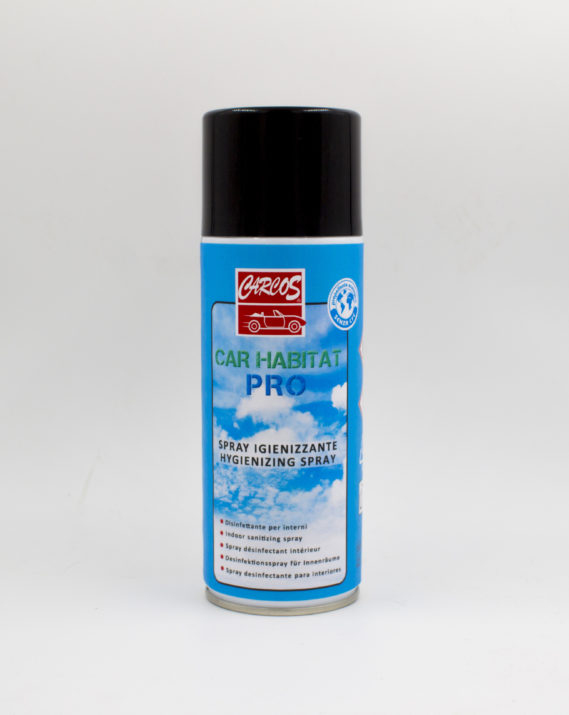 Back to products
CARCOS HYGIENIZING SANITIZING DISINFECTANT SPRAY
Art.814 BC
Cont. ml 400
CAR HABITAT PRO
CAR HABITAT PRO is a specialist ALCOHOL-BASED product for the elimination of organic dirt in normal cleaning operations and to check the values ​​of the bacterial load on surfaces and equipment in the food, pharmaceutical, etc. sector. The special formulation characterized by the use of anhydrous 95 ° C Ethanol (pure at 75-80%) and a new and innovative active ingredient gives the product a high bacteriostatic activity superior to any other product on the market. The product is useful for use in the implementation of HACCP sanitization procedures, and in all cleaning and sanitizing operations on every surface in the food, canning, meat processing, delicatessen, processing of fishery products, in the dairy sector. , in communities, hotels, nursing homes, canteens, hospitals, veterinary clinics, gyms, dance halls, changing rooms, gyms, ambulances, rental vehicles, campers, in the tramway sector etc. It can be used on all surfaces and leaves no streaks.
Technical specifications
Technical specifications
Multi-purpose, it allows multiple uses in the field of industrial cleaning and maintenance.
Safe, does not contain compounds classified Toxic / harmful.
Fast, exceptionally active, it can be used on any surface, does not discolour, does not paint, does not stain
How to use:
Spray on the surface to be sanitized, wait a few seconds and complete the cleaning with a dry cloth.
Back to products