WAX – B17 BRILLANCE
Art. 858
B17 BRILLANCE - EXTREME GLAZE CARNAUBA WAX
Cont. Kg 1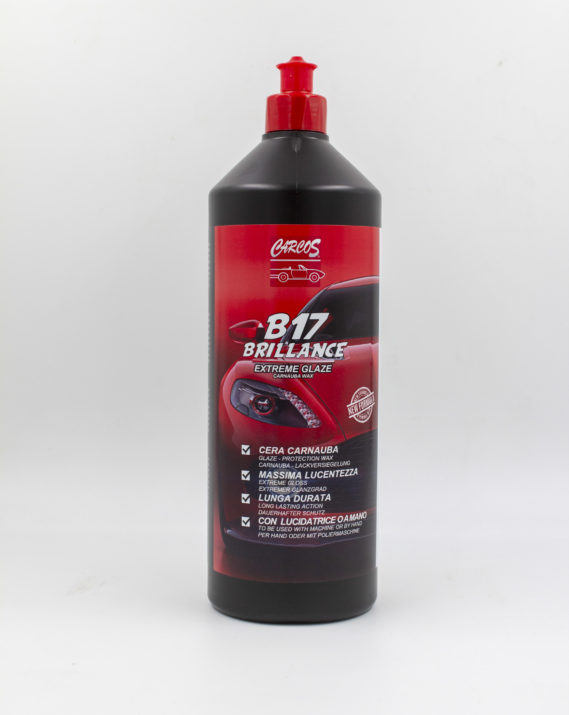 Back to products
WAX – B17 BRILLANCE
Art. 858
B17 BRILLANCE - EXTREME GLAZE CARNAUBA WAX
Cont. Kg 1
Protective wax B17 is a particularly effective and unique paint protection. The natural carnauba wax and high-end synthetic components will permanently protect the paint from the elements and leave a long-lasting, extremely brilliant shine. On paints with strong signs of wear we recommend an initial polishing with articles 855 (M15 – Restore) and 856 (P13 – Profi) for an optimal result. B17 can be used with a rotary or random orbital polisher.
For a final finish we recommend the use of our specific black pad (Item 868L).
Technical specifications
Technical specifications
The favorite of workshops
• Carnauba wax
• Maximum shine
• Long duration
• Can be used with a polisher or by hand
How to use:
Shake the bottle well and apply 3-4 drops on the appropriate pad.
With ROTARY polisher use at a speed between 1,500 – 2,000 rpm
With RANDOM ORBITAL polisher use at a speed between 2,000 – 10,000 rpm
Remove any polishing residue with a microfibre cloth from the bodywork.
Back to products