CARCOSEAL RED
Art.315
CARCOSEAL RED
Cont. gr.90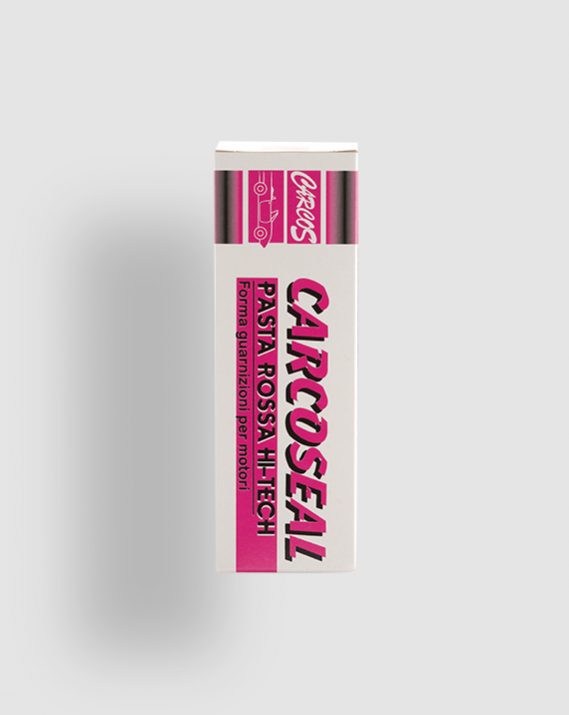 Back to products
CARCOSEAL RED
Art.315
CARCOSEAL RED
Cont. gr.90
• Exceptional adhesive power
• Perfect resistance
• Exceptional heat resistance
(from -50°C until +300°C)
• Quick vulcanization
• Very good chemical resistance
• High efficiency
Technical specifications
Technical specifications
ELASTIC SEALANT FOR ENGINES – RED
• Red elastic silicon on acetic base
• Self – vulcanizing silicon rubber for the sealing of surfaces, cracks and splittings.
• Perfectly resistant also in case of prolongued vibration times.
• Exceptional adhesivity power on metallic and non-metallic surfaces.
• It does not melt and does not go stringy.
• Exceptional resistance to very low and very high temperatures (from -50°C until +250°C), for short times also until +300°C.
• Very good chemical resistance.
• The film shapes in few minutes, vulcanization time about 1,5 mm a day.HOW TO USE IT:
Thoroughly clean and degrease the surface to be sealed, pierce with the screw plug the metallic seal, tighten the special spout and cut it obliquely, according to the desired breadth. After about 30 minutes the hermetically sealed parts can be set in motion.
EMPLOYED FOR:
• Cylinder heads (for filling purposes)
• Joints, oil sumps, water pumps, gears, differential gearings, (as rubber-ring shaper)
• Hydraulic systems, water plugs, injectors, light and signal light seats (as waterproofing paste)
• Other kinds of mechanical fastening systems of the car where there is the need of a better sealing as well as a better air-tightness
Back to products