Anti-marten spray
Art.311
Antimarten Spray
Cont. ml. 400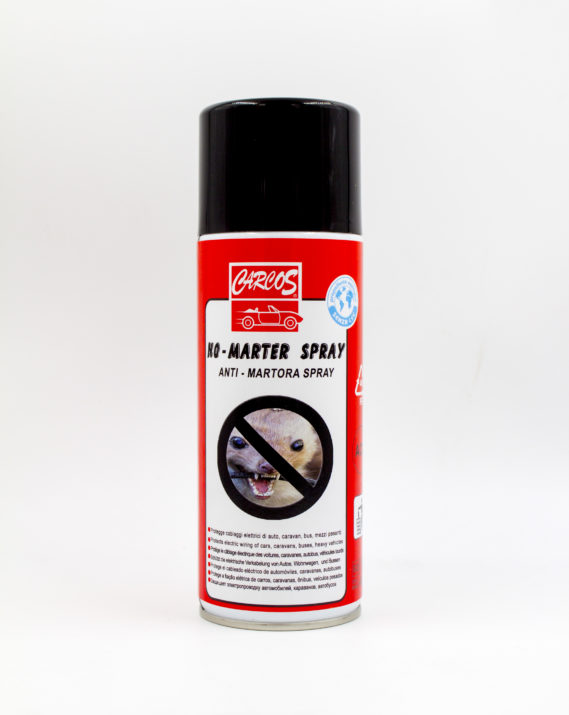 Back to products
Anti-marten spray
Art.311
Antimarten Spray
Cont. ml. 400
Anti marten spray for electric cables and rubber in general against marten and rodents. Sprayed from a short distance on both sides of the parts to be protected, the product performs a double function. It prevents the rodent, the marten, from biting the treated surface and also prevents the animal from colonizing the area by marking with its own faeces, urine, etc. the engine bay, the battery compartment, the plastic housing of the vehicle's electrical control unit, the on-board electrical panel and any other generic part of the car. The product can be used both indoor and outdoor, is colorless, resistant to frost, has hydrophobic characteristics, and is resistant to salt.
Extremely effective in the first two weeks after application. After that it will gradually lose its olfactory effectiveness but not the strong bittering power particularly adverse to martens and rodents in general.
Technical specifications
Technical specifications
UTILE protects electrical systems and wiring of cars, caravans, buses, agricultural vehicles from the aggression by rodents.
EFFECTIVE sprayed on the attackable surfaces protects them avoiding costly repairs.
VERSATILE can be used on any plastic surface, rubber hoses, battery cables, control units
FRIENDLY does not contain halogenated solvents, it contains over 90% biodegradable bittering substances.
SAFE It does not contain toxic / harmful components.
INNOVATIVE the special formulation protects against bites and fragrant markings of martens and other rodents.
PRACTICAL Always ready to use, easy to apply, lasts for a long time.
Back to products