BODY CAR 85 BLACK
Art. 800
BODY CAR 85
Cont. lt 1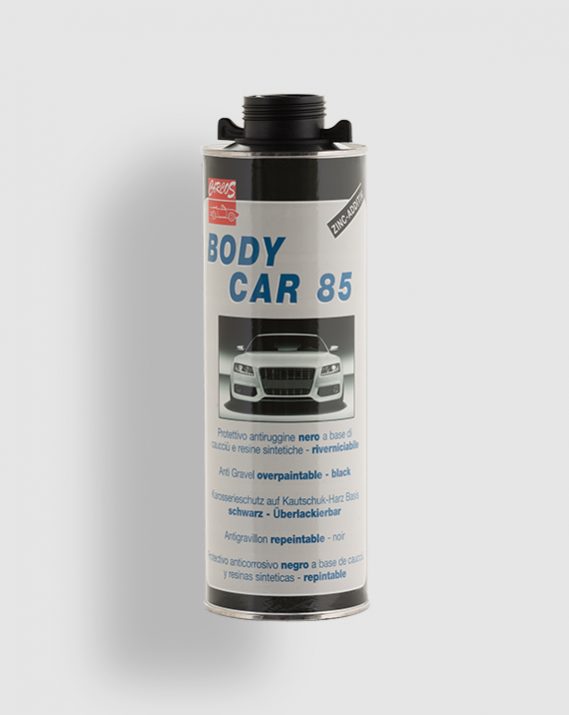 Back to products
BODY CAR 85 BLACK
Art. 800
BODY CAR 85
Cont. lt 1
BODY CAR is a resin / caoutchouc corrosion-preventive with zinc additive specially studied to allow a long lasting adhesion (on PVC as well), that rise its rust protection properties up to the 40%. The product is quickly drying and overpaintable in short time, it has a very good sound deepening effect when applied at 1,5 mm or more thick layers. It is very resistant against gravel, heat, salt, moisture, oil and grease.
Since BODY CAR 85 is a product of very high quality it has the following characteristics:
• drying time of less than one hour at room temperature;
• overpaintable also with light colours;
• the fully plastified layer generated by our product is very protective against corrosion, elastic and resistant against atmospherical agent, gravel, heat, salt moisture, oil and grease, as well as against big temperature ranges;
• it has good sound – deepening characteristics if applied at thicknesses of more than 1,5 mm;
• it does not drop, melt or nebulize;
• it does not contain corrosive substances like asbestos;
• very high adhesion (on PVC as well);
• granted wearing: 8 years.
Technical specifications
Technical specifications
BLACK CORROSION PREVENTIVE
• Quickly drying
• Overpaintable
• Very resistant
• Sound deepening
• Long lasting adhesion (on PVC as well)
IT CAN BE APPLIED ON:
• Underbody coating
• Dashboards
• Spoilers
• Luggage chest
• Engine chest
HI-TECH AGAINST CORROSION
APPLICATION: Shake can well before use on the surfaces to be treated that must be clean and dry. Apply two or three times a thin product layer with a 4-6 atm. compressed air pressure from a distance of about 30 cm.
Back to products