ZINC SPRAY LIGHT
Art. 400 C
ZINC SPRAY LIGHT
Cont. ml 400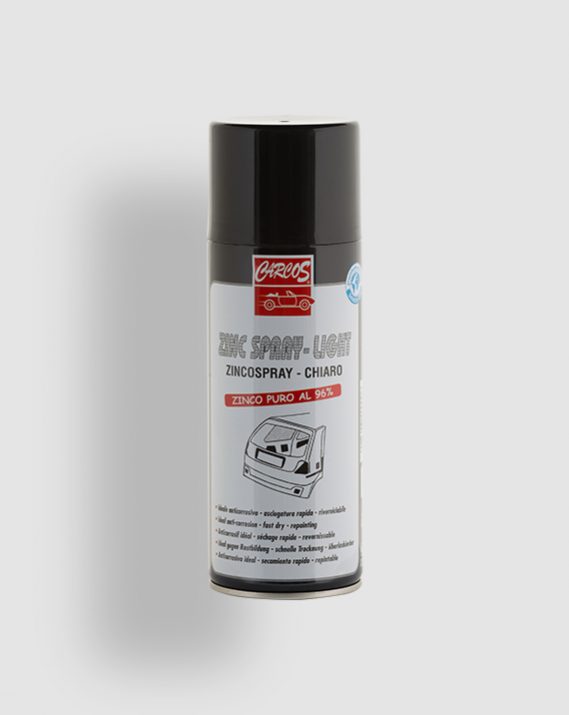 Back to products
ZINC SPRAY LIGHT
Art. 400 C
ZINC SPRAY LIGHT
Cont. ml 400
DOUBLE PROTECTION AGAINST RUST
CARCOS ZINC SPRAY is a zinc alloy in spray form for cold electroplating, highly resistant to corrosion due to atmospheric agents, saltiness, water. The product can be applied to any metal surface, since it has a high adhesive power. Suitable for application on welded joints, pipes and tanks for chemical plants, pumps, pylons, carpentry works, bodywork works, etc. ZINCO SPRAY is made up of over 96% pure zinc and therefore ensures a complete galvanic protection for any metal surface. The product dries quickly in 15-20 minutes and can be repainted.
Technical specifications
Technical specifications
• Ideal anticorrosive
• Super resistant
• Quick dry (15-20 min.)
• Repaintable – weldable
Instructions for use: before use, shake the product until the sphere contained in it is released; continue to shake it a little more and then sprinkle it, lightly, at a distance of approx. 20-30 cm on very clean and dry surfaces.
Important: when finished, turn the container upside down and spray briefly to free the valve from residues.
Back to products